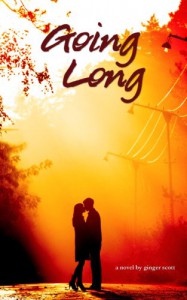 In college now, Nolan and Reed are determined to make their relationship work, despite the distance between their schools and the changes in their lives. But for all their efforts, life keeps throwing curve balls at them, and when insecurities and tragedies get in the way, they both make mistakes. Waiting on the Sidelines was only the beginning, and the road to happily ever after in Going Long is going to be a bumpy one.
The Verdict: Buy it now, read it a thousand times, and fall in love all over again.
Nolan and Reed have tried to be practical and realistic, each heading off to their separate colleges but still determined to make their relationship work. And for a little while, it does. But Reed's still the golden boy and Nolan's still not sure how he ended up with her, and all the love in the world can't kill her doubts.
In Going Long, Reed has certainly grown up a lot. That's not to say he doesn't make mistakes, but he knows who he is and what he wants, and he knows hanging on to Nolan is everything. Nolan, however, makes some pretty big mistakes of her own, and when it all becomes too much to handle, a wedge is driven between them. Every bit as amazing and angsty and incredibly sweet as the first book, this one takes us through a slightly more grown-up journey, where problems are more than just mean girls at school and maybe dates.
There are career expectations, conflicting plans, and a host of outsiders working for them and against them. It seems that Reed has in many ways redeemed himself after some of his more atrocious behavior in the first part of their story, but for all her maturity, Nolan has some growing up and facing the consequences to do herself. While the story is certainly different, it has everything in it that I loved about the first book, and in some ways it stands as the perfect book-length epilogue to the four-year journey we've already witnessed.
Ginger Scott has an incredible way of telling stories, and after reading four of her books now, I think I'd buy anything she puts a pen to. If you love the dreamy innocence of first love coupled with the gritty realities of real life, grab the two Waiting on the Sidelines books and get comfortable. They're beyond any raving reviews I can write.
2
Tweet