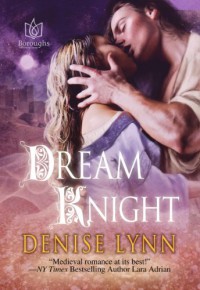 Brezden Keep was once filled with laughter, but all that changed when Pike and de Brye showed up. After seeing to the deaths of both her parents, they've claimed the castle as their own, letting it fall into needless disrepair, mistreating its people, and tormenting Lady Catheryn. And now that de Brye is now claiming Catheryn for marriage, there's little chance for even the smallest happiness. With desperation and no small amount of childish, if not fruitless hope, Catheryn resorts to superstition to reveal destined love. Instead of peace and fortune, though, her dreams are now filled with visions of a violent siege, a dark knight, and perhaps even her death.
Since the horrific murder of his wife and infant son, Gerard done little more than serve his king and seek his vengeance. Brezden Keep falls easily enough to his attack, but only one of the men he seeks perishes in the fighting, and there is no sign of the other. Left behind are only bodies, ruin, and a woman who refuses to bend to his will. Before he can do anything else, though, he's ordered to marry her, gaining full control of Brezden and losing all control to Lady Catheryn.
While I understood Catheryn's naivete and initial reluctance to trust Gerard, I felt like she too often chose the wrong moments to stand up for herself and too easily allowed him to control her. Sure, the story takes place nearly a thousand years ago, and I can't imagine women having any rights or independence during that time, but while Catheryn was meant to be strong and willful, she was frequently just came across as foolish. Her situation was desperate, and he was entirely dependent upon Gerard to not only restore Brezden to a place of happiness and prosperity, but for her own safety as well. Conflicting feelings and conservative hesitation aside, it would have made much more sense for her to confide in Gerard the moment she realized she was in danger. Instead, she allowed herself to be manipulated, ensuring no one's safety.

As I've said before, I'm a total dork for historical romance, and this book didn't disappoint. There was action, intrigue, pageantry, and some super-hot romance going on, and I couldn't put the book down until I'd read every last word. The story didn't delve too deeply into historical fact, but aside from the manner of speaking (because have you ever tried to read Norman-English?), it was reasonably true to the time period, a must-have for me when I'm reading about olden times.
Catheryn wasn't my favorite kind of heroine, but she definitely wasn't unlikeable, and I could just feel her despair every time things went wrong for her. Gerard, on the other hand… Oh, my. Surely I have a sachet of yarrow around here somewhere! That man was the epitome of a historical romance hero, from his brute strength to his moments of unguarded tenderness. If ever there was a man I wished was real…
All in all, Dream Knight was a really fun read, and it kept me on the edge of my seat in anticipation of what could possibly happen next. If you like adventure and intrigue with a heaping serving of romance from another era (not to mention a dangerously sexy knight, pick up Dream Knight and step back in time for a few hours.
***FicCentral received this book from Book Monster Promotions for free in exchange for an honest review. Even so, we're far too opinionated to let a freebie influence our thoughts or the contents of the reviews we post here.